Serendipity.    The meaning is:  "the occurrence and development of events by chance in a happy or beneficial way."  That is precisely what happened to me when I wound up leaving Scotland a couple of days early.  Yesterday was the last day of this major exhibition of the very best of British ceramics, 90 artists in one space, Granary Square, with select lectures along with workshops and firings at The Kiln House close by.  I could hardly believe my luck!  Several of the artists I have known for some time and was delighted that Lisa Hammond was there.  Hammond was the driving force behind Adopt a Potter and was one of the speakers on my panel talking about the need for training and apprenticeships at NCECA, 2014, in Milwaukee.  Since then she has been awarded an MBE in 2016 and took on the massive task of turning buildings at Stoke on Trent into Clay College.  She still maintains her studio, Mayes Hill Pottery, where she produces soda fired functional ware and beautiful shinos on traditional Japanese forms.   The wheel-thrown jugs, bakers, and mugs made at the Mayes Hill Pottery and soda fired are traditional British shapes.  From the crowds at her booth, they resonate entirely with the public in attendance.
Ceramic Review recently contained an article on the work of Midori Takaki.  Midori says that her work is a reflection of her life experiences, real or fantasy – to this clay sculptor the difference is irrelevant.  Midori grew up in Japan but now maintains a studio in Canterbury.  She always believed that the things her mind imagined would mean she would become a writer but, instead, and lucky for us, she translates those images using clay to create intimate figurines and wall masks that are unmistakably hers.  In her blog, she says that she creates these fantasies in miniature at night in place of keeping a written journal.  I am happy to say that one of her delightful rabbits has now found a home in Canada!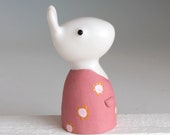 Akiko Hirai's booth was virtually empty Sunday morning.  Over the past year and a half, Hirai has received a lot of press being included in all of the significant exhibitions with articles focusing on her practice including Ceramic Review.  Her work encapsulates what is typically a Japanese vessel, imperfect, asymmetrical, and grounded in nature.
Anna Silverton uses porcelain to focus on pure wheel thrown forms.  No decorative surfaces here!  One of the significant things about this exhibition is the variety of the work that was shown, the juxtaposition of the crustated surfaces like those of Hirai and the clean surfaces and perfect lines of Silverton.  There was something to please everyone who walked through the door.  What was evident in the ceramics of each of the artists was the verb:  crafted.  Regardless of the methods of creating the work or the surface decoration or not, every piece was meticulously made with great attention to detail.  Nothing sloppy here.
Hanna Tounsend combines printmaking and ceramics to create vessels that explore the layered landscapes, seascapes, and the weatherworn surfaces of the British coastline.  Tounsend has a studio in Leicester.
Yuta Segawa creates miniature vessels.  Trained in Japan and China, Segawa now has his studio in Wimbledon.  Each of the tiny vessels is thrown on a wheel, a challenge that Segawa readily engages in to stretch the limits of "what a human body can make on such a small scale".
This has just been a teaser about the amazing ceramic talents of British ceramists.  I have wanted to attend this exhibition for a number of years and my wish came true this year.  For anyone wanting to catch next year's show, Google Ceramic Art London for the dates.  You can order tickets online.  There are food and drink inside but with your wristband, you can come and go as you please.  It is a good opportunity to come in the morning, have lunch in one of the many restaurants in the Grange or the Coal Yard area.  The closest tube station is London King's Cross.  It is about a five-minute walk.  I suggest coming early.  You will get a booklet with a short bio of each of the artists and the number of their booth.  The crowds are not so big around 10 am and this will give you an opportunity to talk to any of the artists whose work intrigues you.  As a result of my visit this year, I will travel to visit Midori next year in her studio in Canterbury!  I can't wait.